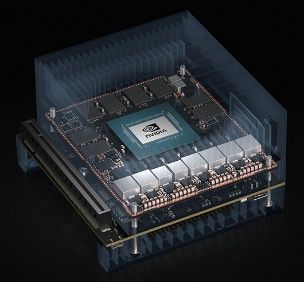 NVIDIA announced Xavier SOC at CES 2018. As an evolution of Driver PX2. NVIDIA announced that "NVIDIA DRIVE Xavier, World's Most Powerful SoC, Brings Dramatic New AI Capabilities."
Xavier can process L5 autonomous driving data from vehicle sensors like radars, cameras, LiDARs and ultrasonic systems. It is more energy efficient and smaller than similar products on the market. "NVIDIA® Jetson AGX Xavier™ sets a new benchmark for computing density, energy efficiency, and AI reasoning capabilities of edge devices."
Product Name
Xavier NX
AGX Xavier
AGX Xavier Industrial
AI Performance
21TOPS
32TOPS
30TOPS
GPU
NVIDIA Volta™ architecture
with 384 NVIDIA® CUDA® cores and 48 Tensor cores
NVIDIA Volta architecture with 512 NVIDIA CUDA cores and 64 Tensor cores
CPU
6-core NVIDIA Carmel ARM®v8.2 64-bit CPU
6 MB L2 + 4 MB L3
8-core NVIDIA Carmel Armv8.2 64-bit CPU
8MB L2 + 4MB L3
Memory
8 GB 128-bit LPDDR4x 59.7GB/s
32GB 256-bit LPDDR4x
136.5GB/s
32GB 256-bit LPDDR4x (ECC support)
136.5GB/s
Storage
microSD (Card not included)
32GB eMMC 5.1
64GB eMMC 5.1
Mechanical
103 mm x 90.5 mm x 34 mm
100mm x 87mm
699-pin connector
Integrated Thermal Transfer Plate
Xavier SoC is based on TSMC's 12nm artisanal manufacturing process and integrates 9 billion transistors with a chip area of ​​350 square millimeters. The CPU uses NVIDIA's self-developed 8-core ARM64 architecture (code-named Carmel). The GPU uses 512 CUDA Volta, supports INT8. It consumes 1.3TFLOPS of single-precision floating point performance, 20TOPs of Tensor core performance, and 30TOPs after unlocking to 30W.
There are six different processors in Xavier: Valta TensorCore GPU, 8-core ARM64 CPU, dual NVDLA deep learning accelerator, image processor, vision processor and video processor. These processors enable them to process dozens of algorithms simultaneously in real time for sensor processing, ranging, positioning and mapping, vision and perception, and path planning.
The technical specifications of Jetson AGX Xavier are listed as follows:
GPU
NVIDIA Volta architecture with 512 NVIDIA CUDA cores and 64 Tensor cores
22 TOPS (INT8)
CPU
8-core NVIDIA Carmel Armv8.2 64-bit CPU
8MB L2 + 4MB L3
DL Accelerator
2x NVDLA
10 TOPS (INT8)
Vision Accelerator
2x 7-Way VLIW Vision Processor
CSI Camera
Up to 6 cameras (36 via virtual channels)
16 lanes MIPI CSI-2, 8 lanes SLVS-EC
D-PHY 1.2 (up to 40Gbps)
C-PHY 1.1 (up to 62Gbps)
Video Encode
4x 4K60 (H.265)
8x 4K30 (H.265)
16x 1080p60 (H.265)
32x 1080p30 (H.265)
30x1080p30 (H.264)
Video Decode
2x 8K30 (H.265)
6x 4K60 (H.265)
12x 4K30 (H.265)
26x 1080p60 (H.265)
52x 1080p30 (H.265)
30x 1080p30 (H.264)
UPHY
8x PCIe Gen4 | 8x SLVS-EC
3x USB 3.1
Single Lane UFS
The internal structure of the chip is shown in the figure below: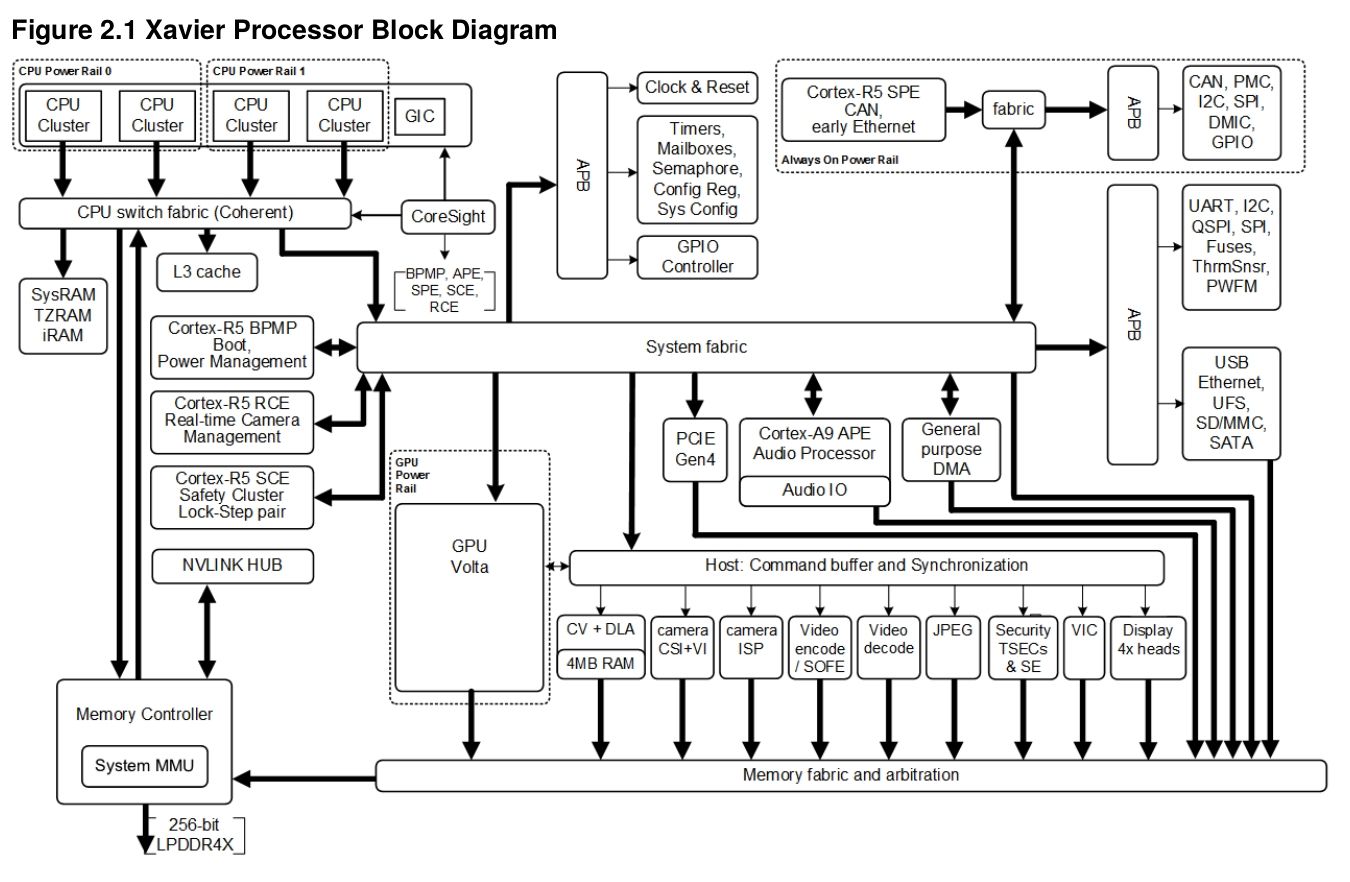 Xavier has launched two versions, Jetson AGX Xavier 8GB and Jetson AGX Xavier.
8GB replaced by Xavier NX
Jetson Xavier NX is an affordable low-power Jetson Xavier, which is fully compatible with the existing Jetson Xavier NX in terms of hardware and software. Jetson Xavier NX supports multiple power modes, including low-power modes for battery-operated systems, and delivers up to 14 TOPs for AI applications with power consumption as little as 10 W.
Jetson AGX Xavier
Using Jetson AGX Xavier can create an AI-assisted autonomous machine that can achieve up to 32 TOPS performance. As part of the industry's leading AI computing platform, Jetson AGX Xavier benefits from NVIDIA's rich set of AI tools and workflows to help developers quickly train and deploy neural networks.
NVIDIA Xavier's system-on-chip
Xavier currently supports Drive IX and Drive AR, both part of the NVIDIA Pegasus AI computing platform.
Drive IX belongs to the artificial intelligence layer. Therefore, it is equipped with the most advanced in-vehicle infotainment (IVI) system, realistic 3D maps and terrain models, virtual assistant, and external environment detection. With Drive IX, key metrics of the vehicles can be integrated to enhance drivers and passengers operating and riding experiences. These key metrics are collected and analyzed by the interior and exterior sensors, combined with facial, vocal and gestural recognition technologies.
NVIDIA hopes that Drive IX will become the ultimate SDK for vehicle safety and convenience. To demonstrate its capabilities, it alerts drowsy drivers to keep their hands on the steering wheels. Also, utilizing facial recognition and gaze tracking, it automatically detects the drivers and the vehicles to raise the garage doors upon arrival.
DRIVE AR enables manufacturers to seamlessly integrate the vehicle interior with the exterior surroundings to create a detailed driving information. With easy-to-access visualizations, the driver (and ultimately the passengers of an autonomous vehicle without a driver) can better understand the performances and operations of the vehicles. Drive AR is oriented to for infotainment applications. Drive AR supports computer vision, computer graphics, human-computer interaction, AI applications. It is a powerful driving force for the in-car augmented reality interface.
Xavier's hardware interfaces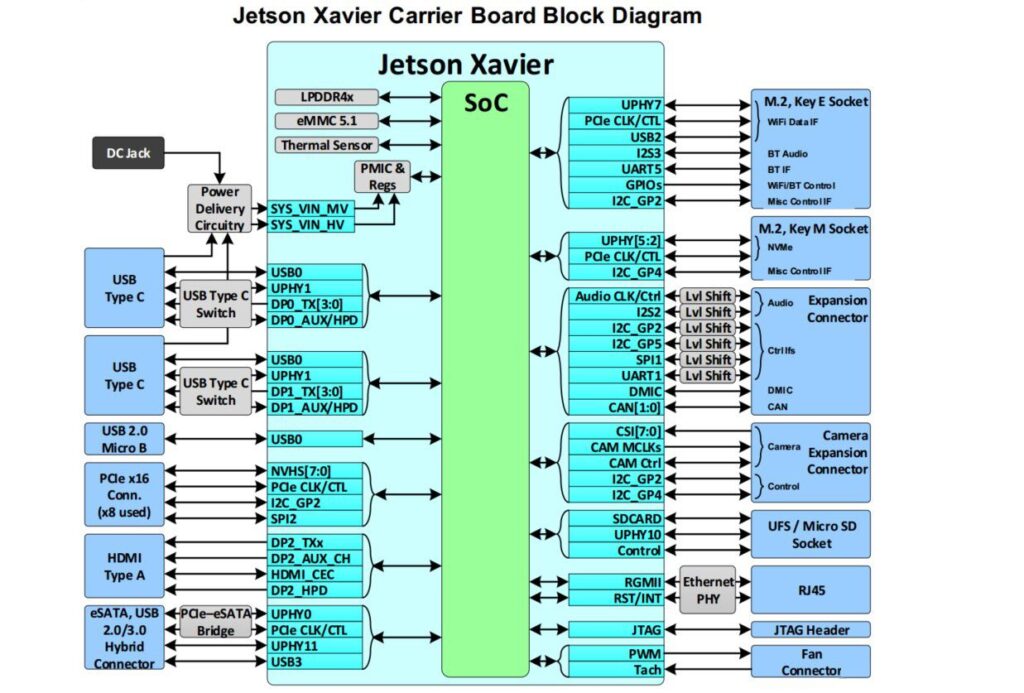 Xavier's carrier board connection
Xavier is connected to the carrier board through a 699-Pin connector. The model of the 699-Pin connector on the carrier board is Molex 2034560003, and the corresponding core board is Molex 2048430001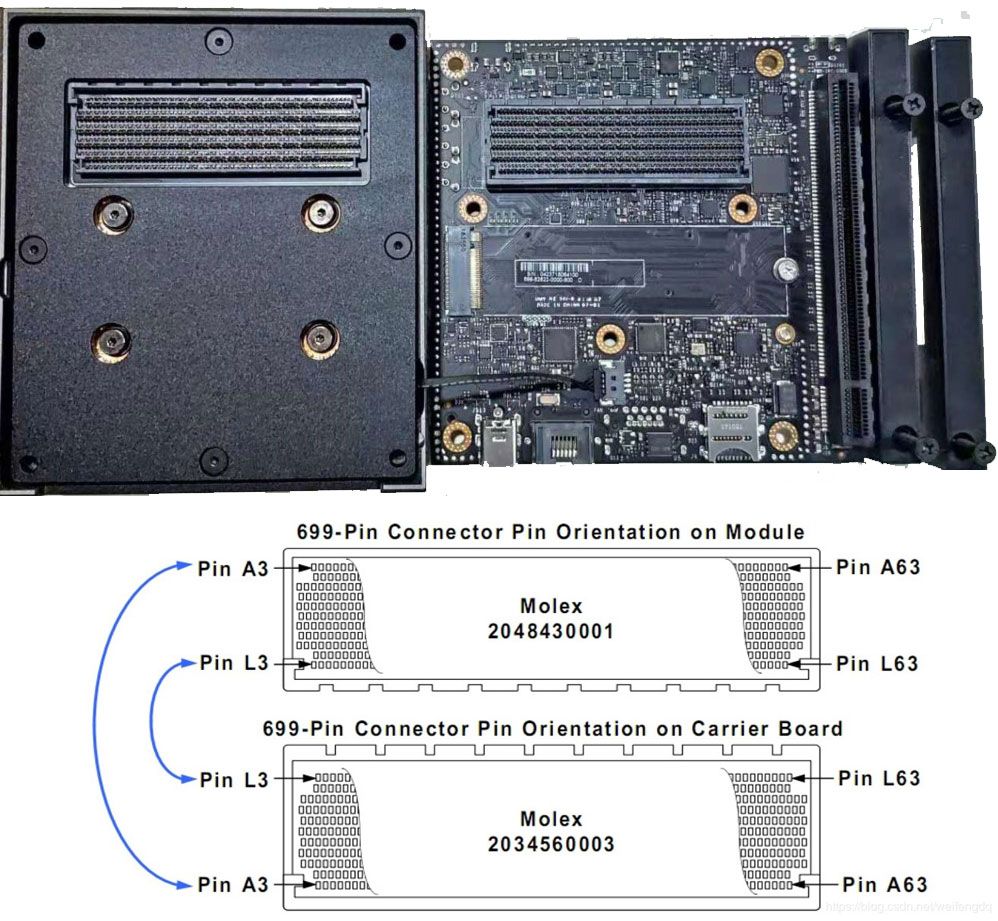 Ethernet port

Xavier core board comes out with RGMII interface. RGMII = Reduced Gigabit Media Independent Interface.
The PHY chip is manufactured by Marvell, model: 88E1512PB2-NNP2C000, package QFN56. The chip is not available on the market for sale. However, 88E1512 is available on the market, which is the commercial grade 88E1512-A0-NNP2C000 and the industrial grade 88E1512-A0-NNP2I000. The gigabit network transformer is M3295NL.
M.2 interface
The M.2 Key E slot (PCIe x1 Lane, USB 2.0, I2S, UART, I2C, Control) is similar to the previous mini PCIe interface. It used to extend WiFi and Bluetooth. However, it is rarely used nowadays.
The M.2 Key M slot, PCIE (x4 Lane, NVMe), is used to insert SSD to expand storage.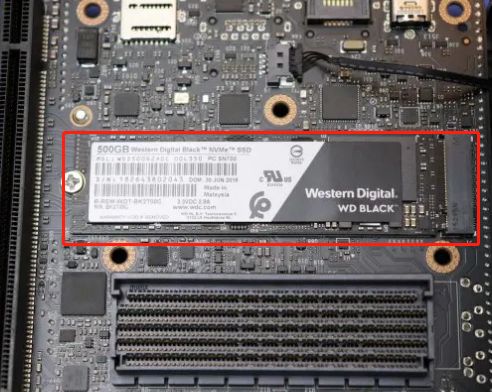 PCIE interface
Xavier supports PCIE 4.0., with a total of 16 lanes. Among which, NVMe x4, eSATA x1, M.2 Key E x1, PCIE Slot x16 interface but only support the x8 mode.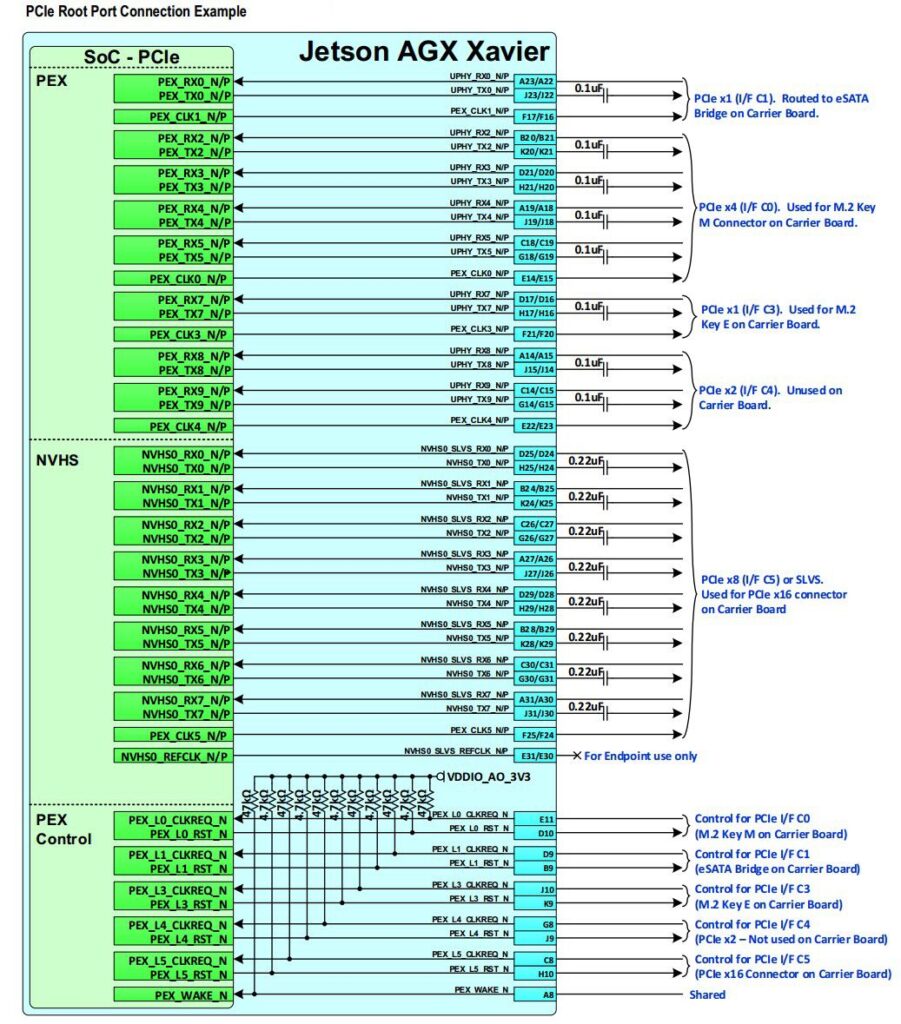 Expansion port
For the 40-Pin expansion port, the upper part is the power supply, I2C, UART, SPI pins; the lower part is CAN and I2S. It has been stated to be very similar to the Raspberry Pi, as it can be replaced by the Raspberry Pi expansion boards.

Control interface
The onboard 2×4, 2.54mm, 8-Pin (J508) terminal can achieve external control operations such as recovery, reset, and power-on.
Power supply
Support 19V/3.42A, DC5.5-2.5mm interface power supply, or Type-C PD 65W charger power supply.
The circuit of the power supply part is shown in the figure: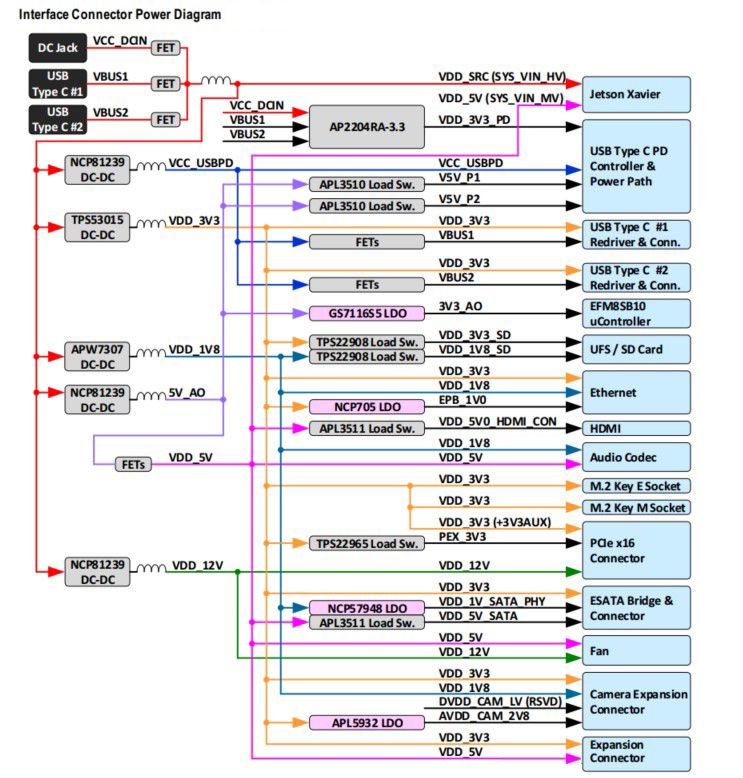 audio port
The Jetson carrier board includes a 10-pin (2×5, 2.54mm) audio panel header (J511). This can be used to connect to a standard PC audio panel. It supports connection to microphones, earphones, power speakers, etc.

eSATA / USB 3.1 Type A connector
Multiplex interface. It can be directly plugged into USB devices (such as U disk, keyboard and mouse, Hub, etc.). It can also be plugged into hard disks with eSATA interface or connected to an eSATA to SATA cable to ordinary SATA hard disks.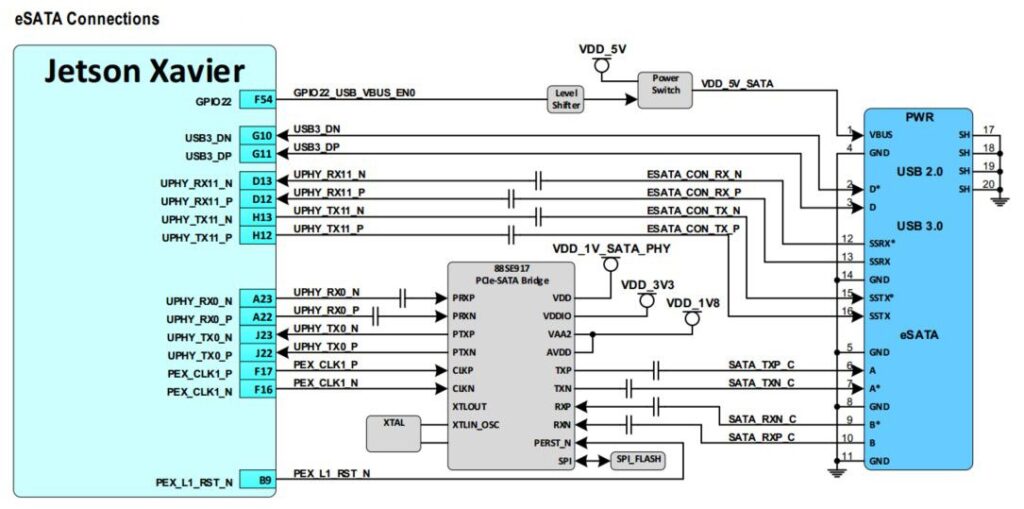 UFS / Micro SD slot
Compatible with UFS card and Micro SD card, UFS is still more practical. The continuous reading speed can reach 500MB/s, and the writing speed can reach 200MB/s.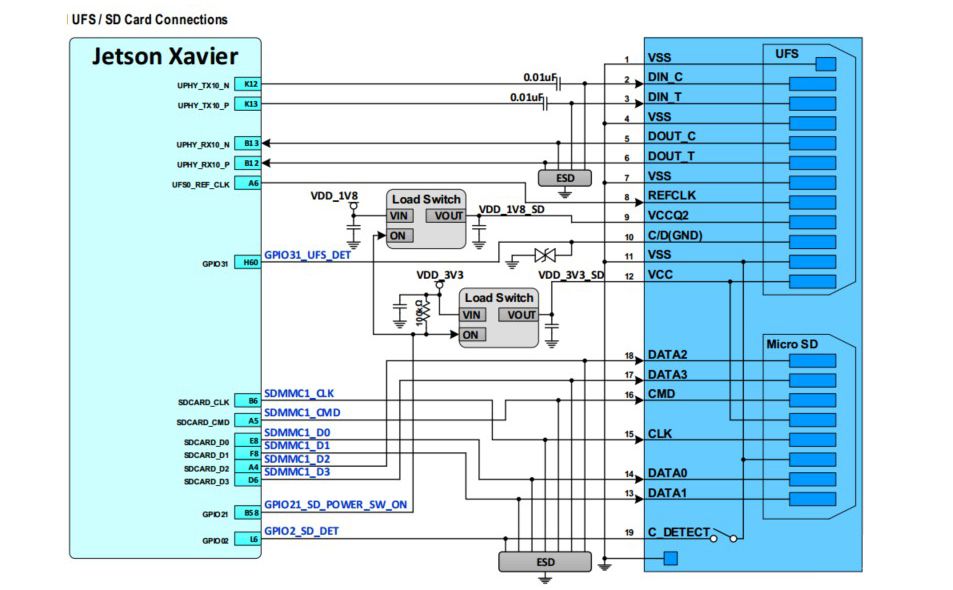 HDMI high-definition video interface
Used to connect the monitor.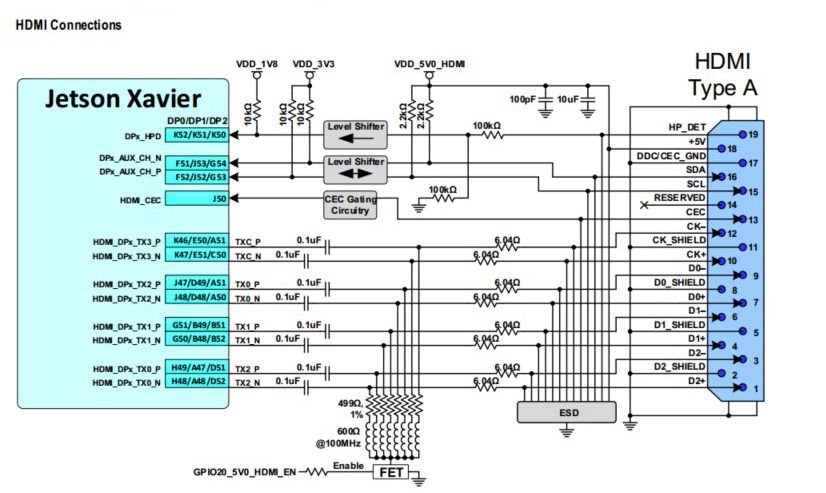 USB Type-C and Micro-USB.
There are two Type-C and one Micro-USB on the carrier board. Type-C supports the display and PD power supply. Micro-USB is mainly used for debugging.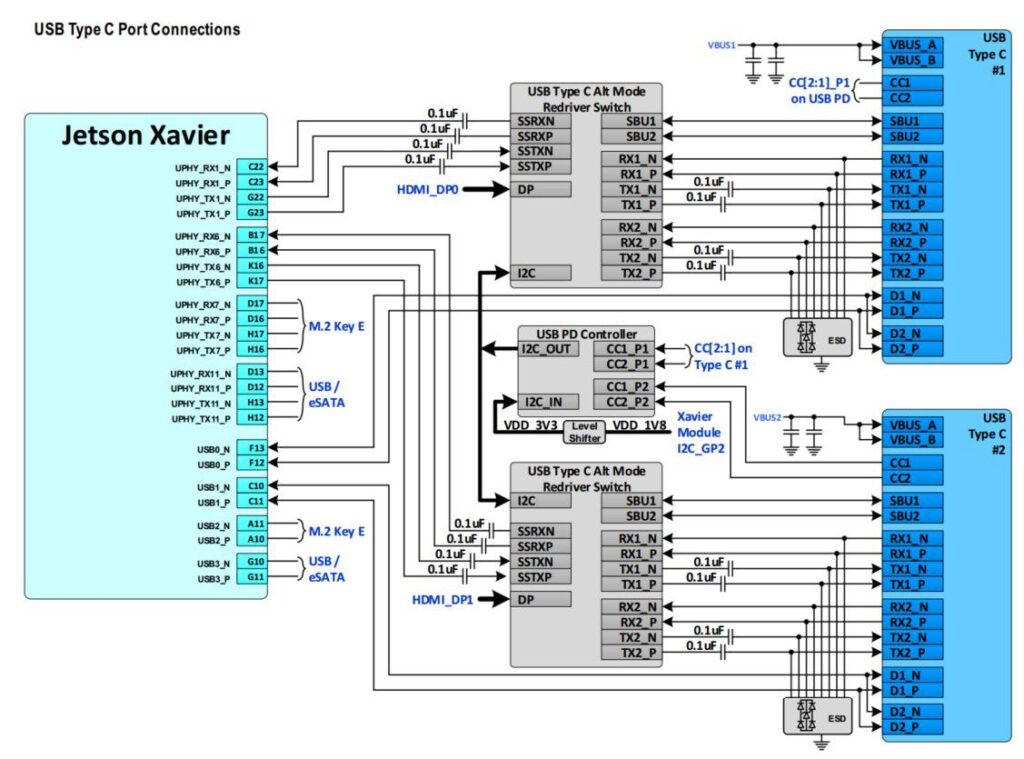 I2C interface
Xavier has 9 groups of I2C, with 1 group of internal module power being used. The 8 channels of I2C come out. It supports 7-bit or 8-bit formats and supports frequencies such as 100/400/1000.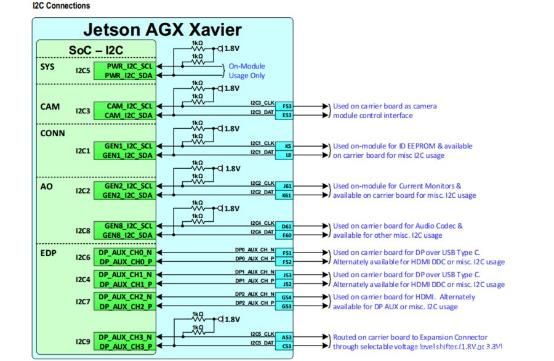 SPI interface
Xavier leads to 3 channels of SPI, which supports data transmission at a maximum frequency of 65MHz.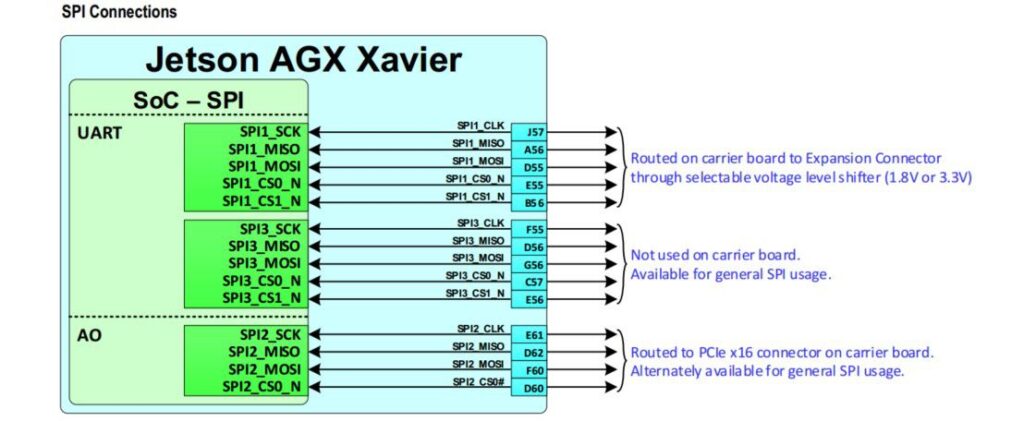 UART
Xavier leads to 5 serial ports.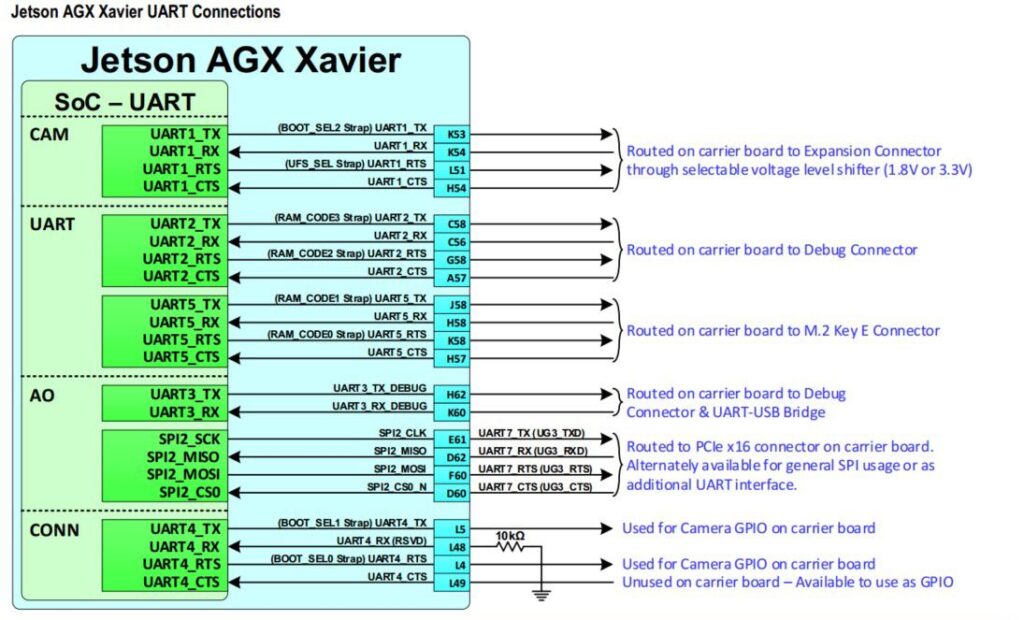 CAN bus
Xavier leads to two CAN channels, which are led out through the 40-Pin expansion interface. You need to connect the level conversion chip manually. The maximum bandwidth supported is 1Mbps. The manual states that it supports CANFD, but it obviously does not match the high-speed bandwidth of CANFD.
Xavier is definitely a benchmark product in the autonomous driving industry at the moment. Although NVIDIA recently released an Ampere-based GPU and an autonomous driving computing platform with a computing power of 2000 TOPS, Xavier is currently the best in terms of ecology, applications, and resources. As an automotive engineer, Xavier's help to our work is tremendous.
In the direction of autonomous driving, Nvidia has achieved an unprecedented Robotaxi computing platform with a computing power of 2000 TOPS through the combination of two Orin SoCs and two GPUs based on the Ampere architecture, with an overall power consumption of 800W.
Ecotron's new generation ADCU, EAXVA05, is an intelligent computing platform designed specifically for autonomous driving systems. EVXVA05 is equipped with 2 NVIDIA Xavier chips and 1 Infineon TC297 chip. Developers can safely, conveniently, and efficiently build low-speed L4-level autonomous driving systems in confined areas with basic software and development tools.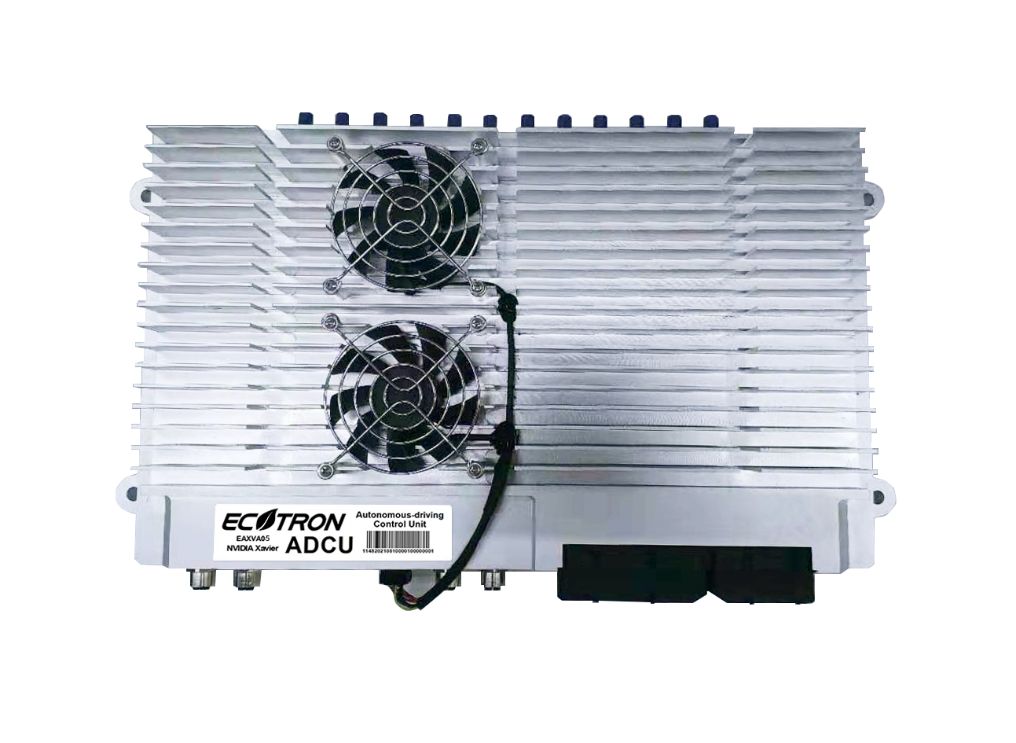 Xavier powered Ecotron ADCU are facing the future of the autonomous driving industry. The powerful Xavier together with the state-of-the-art Ecotron engineering makes Ecotron ADCU a rocket booster for your smart EV applications!
Learn more about Ecotron ADCU, powered by Xavier: https://ecotron.ai/adcu/