TCU - Transmission Control Unit
Introduction
Ecotron Transmission Control Unit (TCU) is the controller for 2-speed, 3-speed, or 4-speed transmission for electric vehicles. This kind of transmissions work with the electric motor and maximize the efficiency of the motors. The transmission control unit can read the motor speed, the vehicle speed, and other inputs, decides the best gear ratio for the operation conditions, therefore can optimize the overall motor efficiency and increase the performance of the electric vehicles. One version of our TCUs can control the automatic transmission. We have some unique control strategies to realize the fast gear shifting and compensate the power interrupt during the shifting. Our TCU can be combined with the vehicle control unit and make a 2-in-1 controller to simplify the system, and reduce cost. Similar to our VCUs, our TCUs come with the complete tool chain for model based design and auto code generation.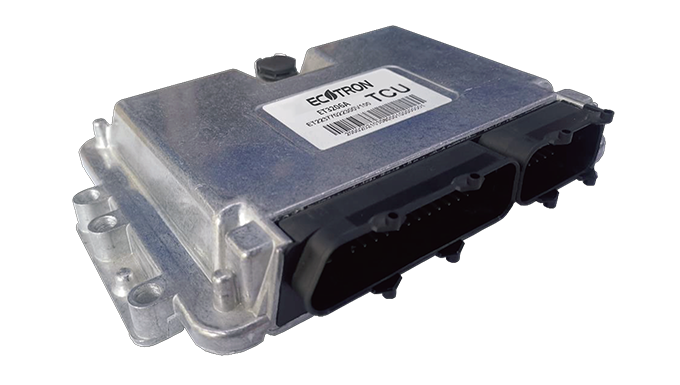 Features
Ecotron TCU is designed with ISO26262 functional safety in mind, and comes with a main chip and a monitor chip built-in, for safety monitoring.
Ecotron TCU comes with the basic software, or BSW, supports all typical input / output drivers for vehicle controls. The BSW is encapsulated in the MATLAB/Simulink environment, and the user can develop the control system with 100% model-based-design methods.
The TCU hardware is abstracted from the application software and relieves the controls engineer from the challenge of the microprocessor configuration and embedded real-time software.
Ecotron TCU comes with a CAN bus based reprogramming tool, supported by our boot loader which is pre-programmed into the microprocessor.
Ecotron TCU supports the CCP/XCP based calibration tools, like INCA, CANape, as well as the cost effective EcoCAL, developed by Ecotron.