During September and October 2018, over 25,000 customers were surveyed on autonomous vehicles (AV). The results of the survey were surprising as trust in AVs seems to be stagnant. The study showed that 50 percent of customers do not believe that AVs will be safe, nearly the same as last year's 47 percent. This statistic is quite disheartening from consumer sentiment in 2017 when 74 percent voiced concerns about AV safety.
With the current level of consumer skepticism, the industry needs a well-organized plan that will be able to achieve customer trust over a long-term cycle to bring the next generation of autonomous vehicles to the mainstream market.
The market growth in Advance Driving Assistance System (ADAS), and the increased demand for Autonomous Driving Control Unit (ADCU) indicates that AVs is becoming one of the major players in the automotive industry.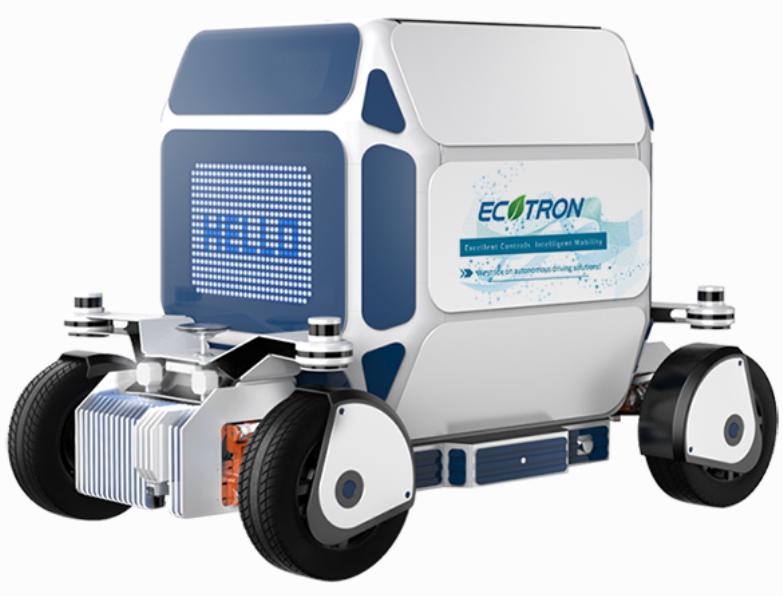 ADAS
In past years, the market and interest in autonomous vehicles (AVs) have grown substantially. Today, experts have put level 4 autonomous driving five to ten years away; however, that timeline is only accurate if technology in the automotive industry advances at a fast and sustainable pace. To increase public trust and engagement, companies have adopted ADAS units into modern-day cars.
Implementing ADAS systems right now should be one of the most important aspects in achieving widespread adoption of fully autonomous vehicles. In 2016, AAA conducted a survey showing that 84 percent of people with lane-keeping systems in their vehicles trust the technology, versus a substantially lower 50 percent for those who don't have it.
The global ADAS market was estimated to be around 27.0 billion USD in 2019 and is expected to grow at a compound annual growth rate (CAGR) of 11.9% from 2020 to 2030. This would put the market at a staggering 83.0 billion USD by 2030. This market growth is driven by the increased interest in EVs, smart technology, and most importantly safety features. Modern-day production level ADAS systems have a laundry list of safety features from parking assistance, lane keeping assistance, to collision avoidance systems.
Not only consumers are pushing for ADAS systems, but many governments are also implementing regulations to mandate the use of safety features in production level automotive vehicles. One example is in 2015, when the Indian Government made amendments to the Motor Vehicle Act and they required the use of Advanced brake systems in all consumer-level vehicles.
Click here for Ecotron ADAS controller: https://ecotron.ai/adas/
Autonomous vehicles (L4-High Automation and L5-Full Automation) are also increasing as R&D activities have increased and many innovative developments have made AVs more dependable and maintainable.
ADCU
One specific market that many companies are looking at within the ADAS market is the autonomous driving control unit (ADCU) markets or automotive multi domain controllers (MDC) market.
This market is expected to rise in proportion to the production of fully autonomous vehicles due to the high computing power and bandwidth which is critical in the development of new autonomous vehicle technology. In 2018 the ADCU market was estimated to be 1.3 billion and is projected to reach 20.2 billion by 2030 at a CAGR of 25.7%. The Asia Pacific region is expected to be the largest and fastest-growing region in the market. The Asia Pacific contains many emerging markets, such as China, Vietnam, and India. In recent years, this region has experienced exponential growth and is expected to experience even more in the forecasted years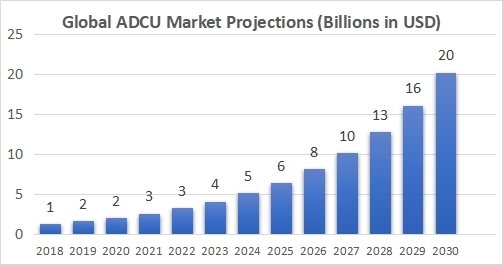 The current level of computational ability needed is required to use some of the most advanced technology from cutting-edge companies like NVDIA, Infineon, and more. This is because ADCU systems need strong computational capabilities to process dynamic data from multiple sensors, cameras, LiDAR, cloud data, and more.
Click here for Ecotron ADCU: https://ecotron.ai/adcu/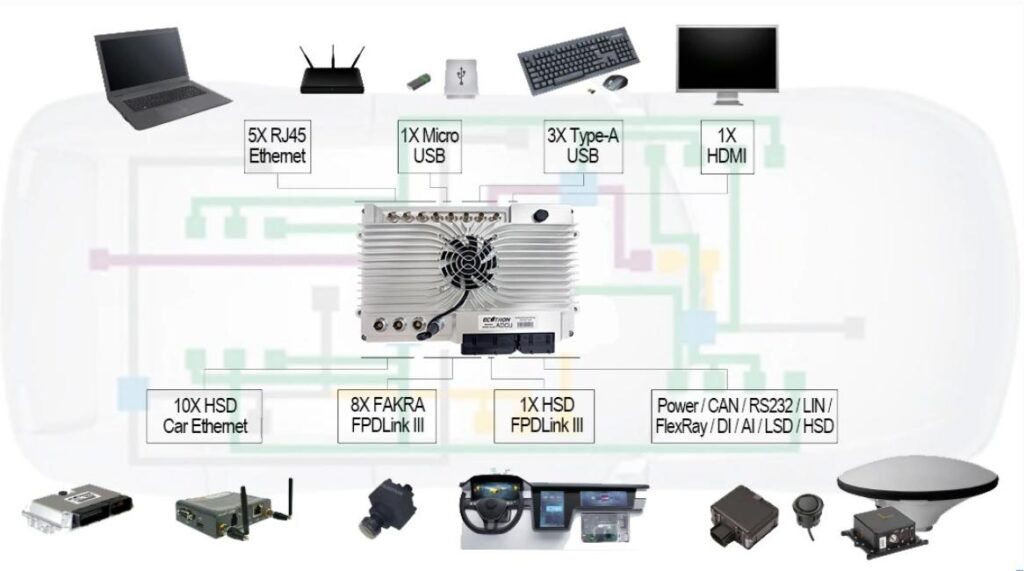 As the ADAS and ADCU market grow and more customers adopt the features such as collision avoidance systems, it will only be a matter of time before we will be able to call autonomous taxis to bring us to Sunday morning brunch.
— Ecotron Team