We are proud to announce that Ecotron will present at MATLAB Expo May 17th-18th this year!
Here at Ecotron, we believe the future of mobility is autonomous driving vehicles and electric vehicles. By leveraging state-of-the-art technology, a highly integrated model-based design software toolchain, and a high-performance computing platform, we dedicate ourselves to helping innovative companies to succeed in the world of EV.
In the MATLAB Expo this year, Ecotron will showcase some of the example applications of our Autonomous Driving Control Unit (ADCU), enabled with MATLAB/Simulink for artificial intelligence (AI). This product has been applied to autonomous delivery vehicles, autonomous mini-bus, and autonomous mining trucks.
Register and join us:
Step 1: Go to https://lnkd.in/g6iWKC6M.
Step 2: Click the "Register Now" button on the top right of the page and fill in your contact information.
Step 3: After the registration is completed (It will show "You're registered" on the top right corner), click "Ecotron" in the Exhibitor Hall, and it will take you to our booth.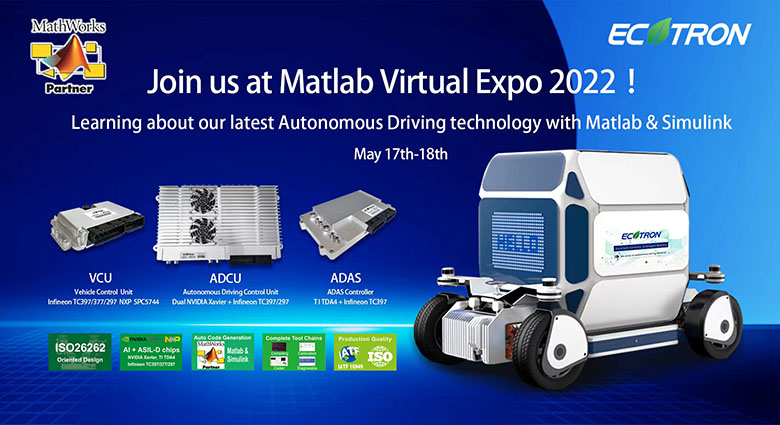 Apart from the autonomous driving controllers, Ecotron also has expertise in the electric vehicle industry. We design and manufacture vehicle control units in a wide range of configurations to fit your requirements. Beyond the hardware, we also offer hardware integrated software, EcoCoder/EcoCoder-AI, which helps system engineers implement their control strategy onto our controllers frictionlessly.
For students and professors, we offer 50% off on selected hardware and free trial licenses. We hope to see you there!
Link to the event: https://www.matlabexpo.com