Autonomous driving control systems are usually divided into three main parts: environmental perception, decision planning and control part. First, environmental perception collects information around the car through a variety of sensors, including camera, active radar, millimeter-wave radar, integrated navigation, and so on. At present, there are two main technical approaches in the industry, one is the camera based multi-sensor fusion scheme represented by Tesla. The other is a technical scheme represented by Google and Baidu, which is dominated by lidar and assisted by other sensors. In both scenarios, an intelligent control algorithm is needed to calculate the commands and routes according to the driver's intentions, speed, external environment, etc. Finally, the wire-controlled system executes the driving commands and controls the operation of the vehicle.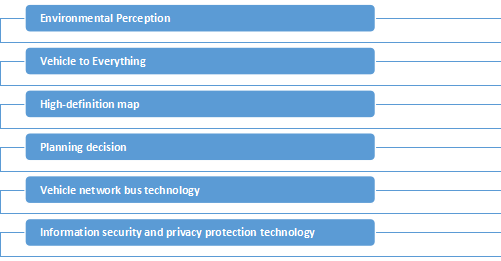 The key technologies involved in autonomous Driving include environment perception, sensor fusion, V2X network, high-definition mapping, decision planning and other key technologies.
Environmental Perception
Autonomous Driving sensor systems need to collect information about the car's surroundings and make decisions (turn, Lane change, acceleration, deceleration). Environmental perception includes vehicle status, roads, pedestrians, traffic signals, traffic signs, traffic conditions, surrounding vehicles, and so on.
The status detection of the vehicle itself includes vehicle speed, driving direction, driving status, vehicle location, etc. Road perception includes road type detection, road marker identification, road condition judgment, whether the vehicle is deviating from the planned route, etc. Pedestrian perception mainly determines whether there are pedestrians in front of the vehicle, including daytime pedestrian identification, night pedestrian identification, pedestrian identification of whom is behind obstacles, etc. Traffic signal perception mainly consists of automatic recognition of traffic lights at intersections, how-to pass-through intersections efficiently, etc. Traffic sign perception mainly identifies various traffic signs on both sides of the road, such as speed limits, bends, etc., to promptly alert drivers to their attention. Traffic condition perception is mainly to detect road traffic congestion, whether traffic accidents occur, and so on. Such that vehicles can choose a smooth route to travel. Vehicle perception around the vehicle mainly detects the vehicle situation in front, back and side of the vehicle to avoid collisions, including vehicles covered by obstacles at intersections. In complex road traffic environments, a single sensor cannot complete all the environmental perceptions. It is necessary to integrate all kinds of sensors and use sensor fusion technology to provide more robust and reliable road environment information for autonomous driving.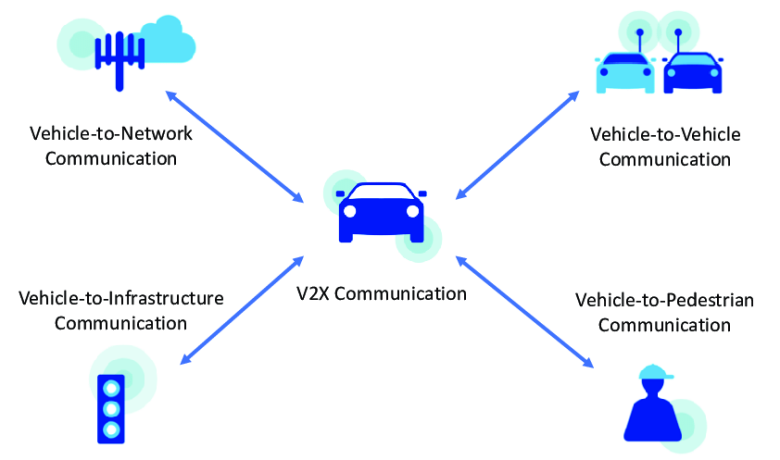 Vehicle to Everything
Vehicle to Everything (V2X) is a new generation of information and communication technology that connects vehicles with everything. V represents vehicles and X represents any object that interacts with vehicles. Current X mainly contains vehicle, human, traffic roadside infrastructure and networks. The modes for V2X information interaction include Vehicle to Vehicle (V2V), Vehicle to Infrastructure(V2I), Vehicle to Pedestrian (V2P) and Vehicle to Network (V2N). V2V technology allows vehicles to prevent accidents by forwarding real-time information about themselves and road situations in front of them, thus reducing driving time and ultimately improving the traffic environment and easing traffic congestion.
V2I technology helps vehicles and road-side traffic facilities to exchange data wirelessly. The main applications include intersection safety management, vehicle speed control, electronic toll payment, transportation safety management, road construction warning. This technology will promote the intelligence of transportation facilities, including No Entry traffic lights, weather information systems, and so on, to be intelligent transportation facilities that can identify high-risk situations through a variety of algorithms and automatically take alerting actions.
At present, the V2X field is divided into two standard and industrial camps: DSRC and C-V2X. DSRC standard was the earlier one. There are commercial chip modules. Mainstream automobile enterprises have conducted multiple rounds of testing. C-V2X is catching up, and the industrial chain has been gradually built. Compared with DSRC, C-V2X has larger bandwidth, can better support short-distance transmission and long-distance transmission, and can provide Internet of vehicles services for users within and outside the network coverage at the same time. It also has excellent performance in collision related scenarios same as DSRC. With the advent of 5g network, the problem of long delays of C-V2X network has been solved, and c-v2x may have even better potentials.
High-definition map
High-definition map has accurate vehicle location information and rich road element data information, which can help cars predict complex road information, such as slope, curvature, heading, etc. Compared with traditional, it has higher real-time performance. Because the road conditions often change, such as road renovation, worn or repainted sign lines, traffic sign changes, etc. These changes should be reflected in the HD map in time. The HD map will put more emphasis on the three-dimensional model and accuracy of space, strengthen the accuracy from meter level to centimeter level, and must display every feature and condition on the road very accurately.
Planning decision
Decision making is the core technology of unmanned intelligence, which is equivalent to the brain of an autonomous driving car. By comprehensively analyzing the information provided by the environmental perception system and the results of routing from the HD map, it makes plans for the current vehicle, including speed planning, direction planning, acceleration planning, etc. It produces corresponding decisions (car following, lane changing, parking, etc.). The planning technology also needs to consider the mechanical characteristics, dynamic characteristics, and kinematic characteristics of the vehicle.
Vehicle network bus technology
At present, the networks widely used in automobile include CAN, LIN and MOST bus, which are characterized by low transmission rate and narrow bandwidth. With more and more high-definition video applications entering cars, such as ADAS and 360 degree panoramic parking system, the transmission rate and bandwidth of the existing communication bus can not meet the needs. Vehicle Ethernet conforms to the development trend of the future autonomous driving industry, that is, the principle of openness and compatibility. It is most likely to work in the intelligent networked vehicle environment. It adopts a star connection architecture. Each device or link can exclusively enjoy 100m bandwidth, and the transmission rate reaches 10 Gigabit. At present, some scenarios of vehicle Ethernet have started to be applied.
Information security and privacy protection technology
Autonomous driving vehicle also brings information security problems through the access of vehicle network. In application, every vehicle and its owner's information will be transmitted to the network whenever and wherever possible. The information exposed in the network can easily be stolen, interfered, or even modified, which directly affects the safety of the intelligent network system. Therefore, in the intelligent networked vehicle, we must pay attention to the research of information security and privacy protection technology.
Our Ecotron ADCU is a cutting-edge platform with powerful computational capability tailored for autonomous driving system. The ADCU receives data from multiple sensors, e.g., cameras, radars, LiDAR, and cloud data (V2X), and acquires vehicle dynamic data from VCU so that it can support decision-making and route planning algorithms. The outputs of the ADCU will be used for the driving status feedback, vehicle control, and various autonomous driving features. With the help of it, engineers can efficiently build low-speed L4-level autonomous driving systems. Ecotron ADCU can be customized according on customer vehicle parameters and components input specifications, which makes it easier to put into applications.
Although there are still lots of technology problems to be solved in Autonomous driving field, the whole industry is still developing so rapidly. In the urban areas, autonomous driving has begun to be applied. Closed low-speed scenarios such as park sanitation, terminal distribution, plant logistics and airport logistics will be copied and put into application in batch in the next 2-3 years. Autonomous driving under public transport will become more and more common. In the future, autonomous driving will almost certainly become a common technology.