Yutong Group Co., Ltd delivered a batch of "Xiaoyu 2.0" bus with L4 autonomous driving capability. This shuttle bus serves as short distance transporter from subway stops to passengers' home/workplace.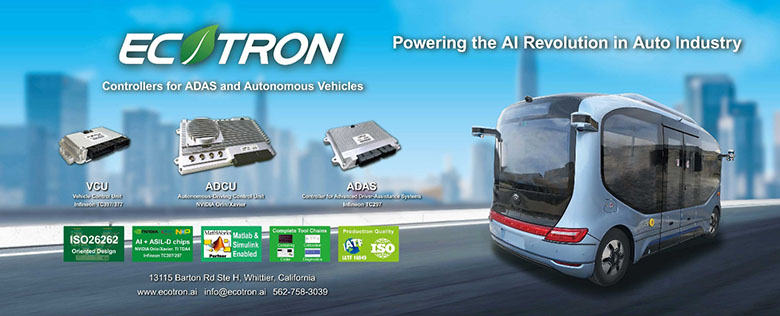 As the second generation of Yutong's autonomous driving shuttle bus, it is equipped with various sensors such as radar, lidar and cameras. Powered by Ecotron Autonomous Driving Control Unit (ADCU), the bus can conduct L4 autonomous driving features such as intelligent interaction, autonomous cruising, line changing, obstacle avoidance, passing, following, and emergency braking.
The bus is fully autonomous without paddles. The manipulation is conducted by Ecotron ADCU. The controller, processes signal from two 32-channel lidar, four 16-channel lidar, one front-view camera, one round view camera, various radars and ultrasonic sensors for environment perception. Based on the sensor data, our product performs path planning and decision making as well as transferring data to the cloud.
Ecotron ADCU complies to automotive standards and requirements. With Ecotron's Software toolchains and intelligent AI algorithms, this computing platform is ideal for rapid development and deployment of L3/L4 autonomous driving applications.
Ecotron focuses on intelligent vehicle solutions and is devoted to vehicle control units. Currently, our ADCU has been applied in various fields. Ecotron will keep working with Yutong to power the innovation and revolution of the next generation autonomous driving solutions.