As on-car electric systems and software proliferate, great challenges arise for on-car electric and electronic structuring. How to optimize data processing and network security becomes a quagmire in nowadays ever-complicated circuits. A commonly agreed solution is to use one or several "central brains" to control ECUs and sensors all over the car.
However, a long transition period will be present for the automotive industry to shift from part-based to system-based. During which, Tier 1 corporations such as Bosch and Continental believe the best solution right now is an integrated structure based on domains and domain control units.
What are domain control units?
The concept of domain control units is first raised by tier 1 such as Bosch, Continental, and Delphi. They are aimed to solve the problem of information security and ECU bottlenecking.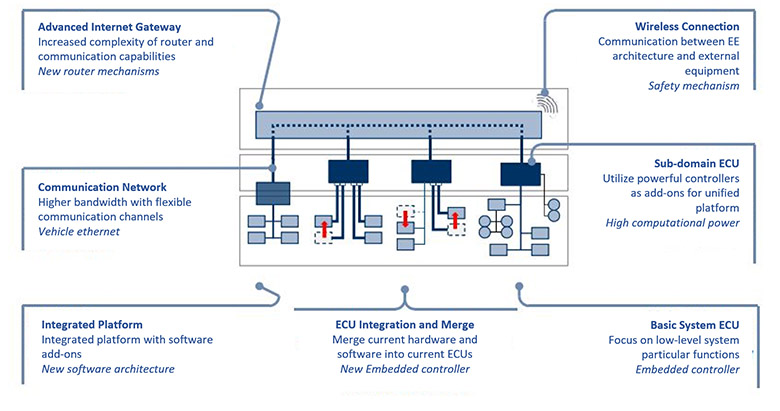 Vehicle domains are divided into power train, vehicle safety, vehicle electronics, smart cabin, and smart driving subdomains based on vehicle module functionalities. Domain control units are capable of utilizing stronger multi-core CPU/GPU chips to control every domain jointly. This structure is superior to current distributed electric and electronic architecture (EEA).
The foundation of domain control unit development is the rapid growth in computing power. Domain control units allow system components of public information to be separated and ran in software. From which the software is separated from hardware. This separation saves enough resources to fulfill customer demands fast. Domain control units have the advantage of high platformization, compatibility, performance, etc.
Even though such designs simplify the network topology of vehicle electronics, security concerns arise due to the fusion of different data. Multi-chips design and redundant architecture is the mainstream design of the current control unit hardware architecture. In the foreseeable future, the internal hardware of domain control units will be divided upon functional safety levels. Different functions will be embedded in chips of different functional safety levels.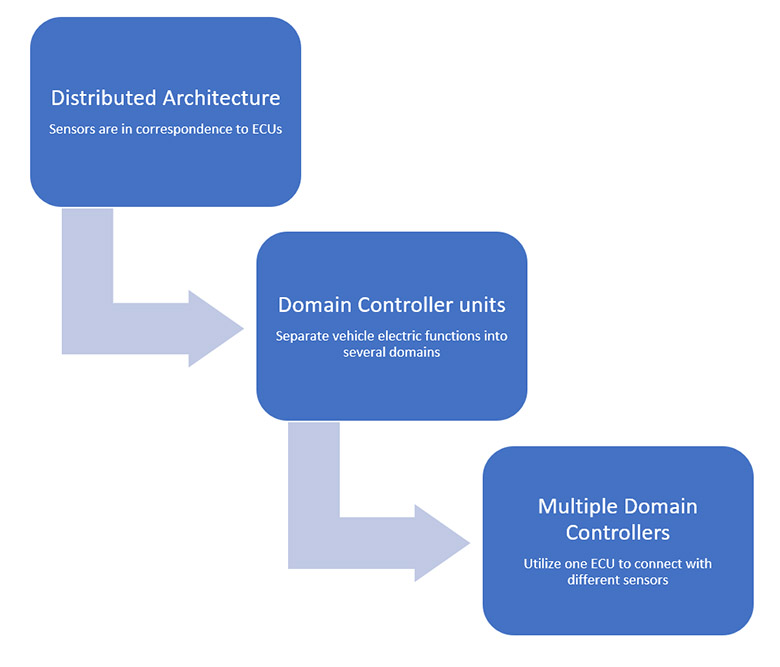 Domain control units, as the future trend of vehicles' electronic architecture, are capable of achieving more with less components and lower production costs. The enhanced electronic characteristics of vehicles can also facilitate the management of various subsystems, which is generally accepted by OEMs and Tier1.
As the dawn of autonomous driving approaches, the complexity of sensor, control, and decision systems increases. Interaction and control with other systems are more and more common. It is expected for the autonomous driving system to become a modular, transplantable, and easily manageable subsystem of vehicles. From which, autonomous driving domain control units emerge.
Required Capabilities of Autonomous Driving Domain Control units
Autonomous driving domain control units should be capable of performing sensor fusion, location services, route planning, control strategy, and high-speed wireless communication. These units usually need to be connected to several cameras, mmWave radars, LiDARs, IMUs, and more equipment externally. Such systems accomplish tasks such as image recognition and data processing.
Due to excessive computational loads, autonomous driving domain control units often need to work together with a high computational power chip, such as NVIDIA, HUAWEI, Renesas, NXP, TI, Mobileye, Xilinx, etc.
Different companies will choose distinctive solutions based on different demands from various customers. However, those solutions share some common characteristics. For example, in an autonomous driving system, the 3 most computational power demanding features, in sequence, are the image recognition module, the multi-sensors data processing module and the fusion decision module.
Domain control has the advantage of modularizing the entire car on-board electronic system by splitting functionalities into singular domains. This helps with function safety and network security of each subsystem. It also simplifies the development and deployment of autonomous algorithms. Domain control further makes it easier to extend functionalities in each subsystem.
As autonomous driving technologies develop vigorously, more and more Tier 1 and other suppliers start to pay attention to this area.
Ecotron's new generation ADCU, EAXVA05, is an intelligent computing platform designed specifically for autonomous driving systems. EVXVA05 is equipped with 2 Black Sesame A1000 chips and 1 Infineon TC297 chip. Developers can safely, conveniently, and efficiently build low-speed L4-level autonomous driving systems in confined areas with basic software and development tools.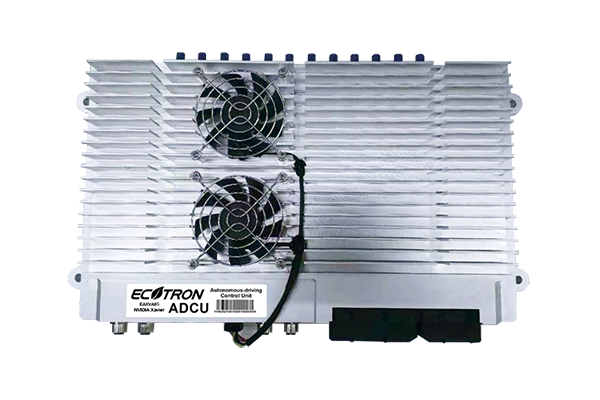 NBlack Sesame A1000 is designed specifically for embedded intelligent systems. It supports autonomous driving functions such as sensor fusion, environment perception, and path planning. Infineon TC297 has a TriCore™ architecture and has an operating frequency of 300MHz. Moreover, it has 728KB + 8MB capacity and ECC (error correction coding) RAM protection. Ecotron's ADCU is designed based on the ISO26262 standard and supports ASIL-D safety level requirements. Engineers can develop vehicle control and functional safety-related strategies based on this MCU.
Autonomous driving domain control units have come a long way from their early days as mere ideas. Now they are ready to hit the road. Even though different manufacturers have different takes on perspectives such as product road maps, performances, safety, costs, they are all pushing on the discovery for the future era of smart networking. In the near future, as vehicles' electronic and electric architecture (EEA) adapts the design based on domains, the industry expects that the next 3 to 5 years are the growth period of next generation EEA.
Ecotron's ADCUs are the product of and for the future autonomous driving industry. The powerful microcontrollers, advanced architecture, together with the state-of-the-art algorithms, make Ecotron the best choice for your next smart EV project!